The reason why people like iPhones is because of the security and reliability attached to them. Another thing, they are also classy phones. Now, apart from the iOS devices having a secure iCloud storage, Apple has other ways to make your data safe.
However, if you lose your iPhone or it's stolen, you need a way to track it. You may also want to track an iPhone belonging to someone else. For example, if you're going to track an employee or kid without them knowing.
Whatever your tracking reason is, we already have four ways to solve your problem. All of them apply to iPhones. Others are applicable to Android as well. Let's see how they can help you track an iPhone without alerting the targeted user.
Part 1: Track an iPhone without Them Knowing with Spyic Solution
It's a good thing to know that there are recommendable third-party apps already. One of them that will help you track an iPhone seamlessly is the Spyic monitoring application. This software will track your iPhone or the targeted one without revealing itself.
It has the stealth mode feature to keep it hidden from the target's vicinity. That is one of the many reasons why millions of users worldwide have already downloaded it. It has already been used to track both iOS and Android devices.
When it comes to iPhones, it will track the device's exact location in real-time. The location feature in it will also show you the previously visited places. If you want to restrict the target against going to certain areas, you can do that via the Geofence option.
The Geofencing specification helps you set up restricted zones. After that, you should give it an email that it will use to alert you when those places are visited.
Tracking iPhones with Spyic does not require jailbreaking. You may have often found such a requirement in some of the tracking apps available. Spyic is a non-jailbreak solution that will track the iPhone using its unique cutting edge technologies.
It's also compatible with all iPhones with iOS version 7.0 or above. So, you can use it to track a variety of recently releases Apple smartphones and tablets.
Another thing, it does not require any downloads or installation. Spyic will work with the iPhones iCloud login details to track it. To ensure that, the phone should have it's iCloud syncing turned on and two-step verification turned off.
Once you have the iCloud ID, you can register with Spyic, verify the ID and start tracking the phone online. You don't need even to touch the phone. The tracking results are gotten remotely via your Spyic account.
You need to login to access the web-based dashboard. You can use any device to log in and view the results since the panel is fully compatible with all browsers.
How to Track an iPhone without Them Knowing Using Spyic
Step 1: Go to the Spyic website and register an account with your email address and password.
Next, select the Apple icon to continue to pricing plans.
Step 2: Choose the best plan for your tracking needs and make the payment. You will then receive a confirmation email with the login details, set-up guidelines, and a receipt.
Step 3: After the confirmation email, login to your Spyic account and verify your target's iCloud credentials.
Next, select the device you want to track and wait for the Spyic and iCloud synchronization.
Step 4: Once the syncing is through, you will see the dashboard. It will have a couple of tracking features on the left menu.
To track the iPhone's location, click on the 'Location' feature.
Part 2: Track an iPhone without Them Knowing with Cocospy Solution
Another powerful iPhone tracker that you can rely on is the Cocospy tracking application. It comes with many tracking tools, as well. When tracking iPhones, it will tell you the exact phone's location and the previously visited places.
In addition to that, Cocospy also has the Geofencing specification. It can help you set up restricted zones and get the alerts via your email too. You can also use it to track Androids as well.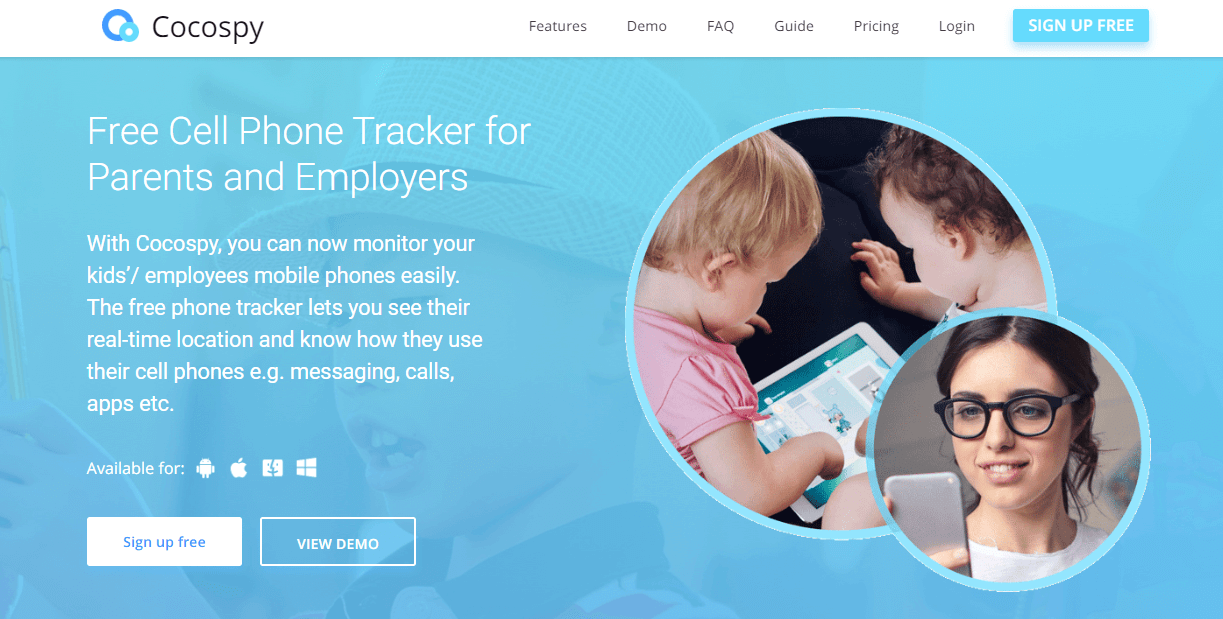 In iPhones, it doesn't require any jailbreaking, download, or installation. Cocospy also uses the iCloud credentials to tell the iPhone's location. It's compatible with all iOS devices with version 7.0 or later.
Once you have the target's iCloud ID, you can register with Cocospy and start tracking the phone online after the iCloud verification. Accessing your account is easy since Cocospy's control panel works with all browsers.
For more information about how Cocospy works, check out the main website. Please make sure you click on the demo page to see how it tracks iPhones.
Part 3: Track an iPhone Via Find My iPhone
You can also use iPhone features to track an iPhone. Find My iPhone is straight from the Apple Company. It was established to help users track their phones and others too. To use it, you need to enable the setting in your iPhone or the targeted one.
Go to Settings>iCloud and scroll down to 'Find My iPhone.' Turn it on if it's off and then follow the steps below:
Step 1: Via your browser, go to iCloud.com, and log in to the account linked to the targeted phone.
Step 2: Once you gain access, click 'Find iPhone' and enter the required Apple ID and password.
Step 3: Locate 'All Devices' and click on it to select the device you need to track. After a few minutes of loading, you will see a map with the phone's location.
Part 4: Track an iPhone Using IMEI Number
The last method here is for those who need to track a lost or stolen iPhone. You can use the iPhone's IMEI number to follow it. If the phone is lost, you can check the IMEI number on the box that came with the phone.
If you have the phone and would like to save the IMEI for the bad times, here is how to get it:
Go to Settings>General>About and then scroll down to find the IMEI number. Once you see it, please write it down and keep it safe.  Now, when you lose the phone, the following are ways you can use it to find where your iPhone is:
Notify your wireless provider about it. Please give them the IMEI number so that they can blacklist it. They will then use the IMEI to track the phone's location.
If the provider is not successful, then register your IMEI with available databases online. One of them can be the White Pages.
File a complaint with the local law authorities. They also have potent means to locate cell phones in general.
Conclusion
Which of the four ways do you think you can use to track an iPhone without notifying the user? To us, we recommend Spyic to you. It already has the stealth mode feature to hide. Next, it will use the iCloud to track the iPhone.
That means it will not require jailbreaking, downloading, and installation whatsoever. However, when the situation demands other ways, you can check out the last two and see which one helps.
Admin is a professional blogger and digital marketer at 99techpost. She writes about Digital Marketing, Technology, WordPress, SEO, Web Design and Development . You can also follow us on facebook & twitter. Feel free to contact us if you have any queries.